The Pasadena Society of Artists proudly presents a new exhibition, the Artist's Choice Exhibition starting Friday, September 1, 2023 at Whites Fine Art Gallery located at 2414 Honolulu Avenue in Montrose, California. The exhibition closes on Saturday September 30. Concurrently the exhibition can be viewed at ISSUU.com or the PSA website www.PasadenaSocietyofArtists.org. A printed catalog will be available for purchase.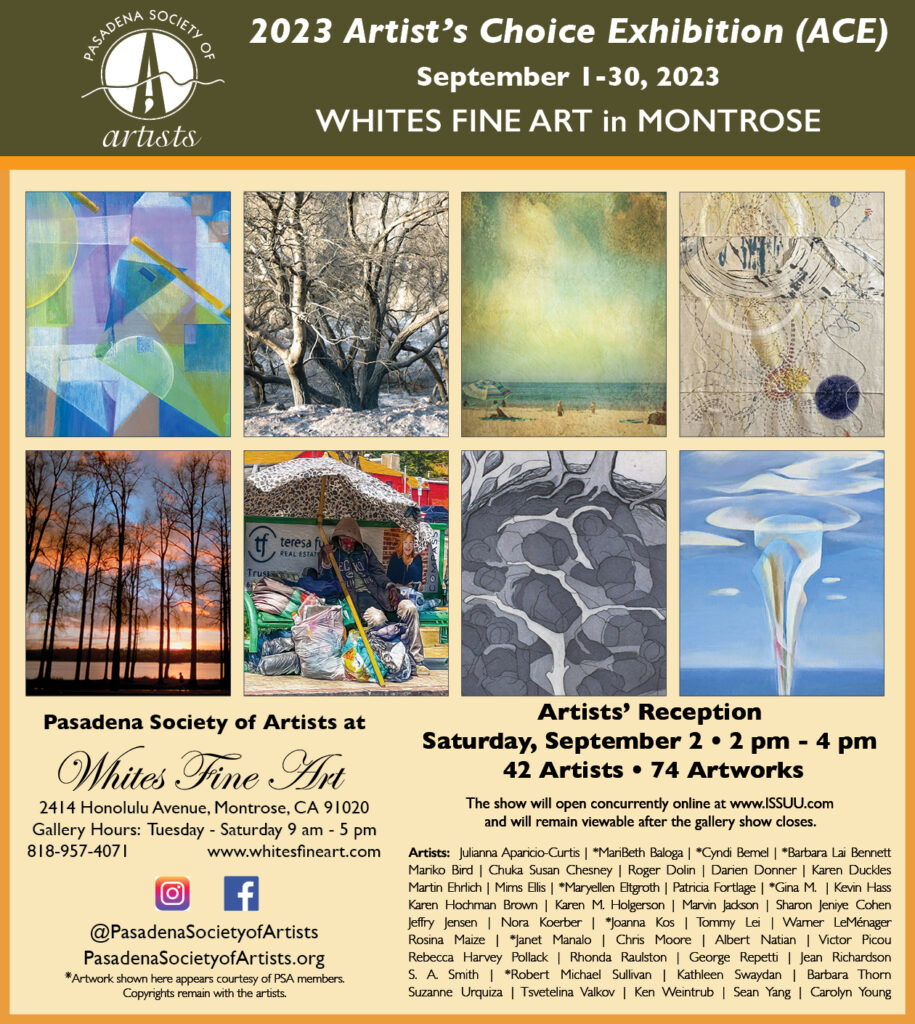 Exhibition Chair: Lawrence D. Rodgers
PSA has been presenting Artist's Choice exhibitions since 2009. This is the 10th exhibition in this ongoing series. Artwork in this exhibition has been created or selected by the artist. Many are new works not previously seen by the public. Artwork is available for purchase.
Forty-two members are exhibiting 73 artworks. Media includes oil, acrylic, ceramics, pen and ink, collage, watercolor, photography, etching, graphite, colored pencil, fabric collage, cotton thread on canvas and assemblage.
Participating artists are Julianna Aparicio-Curtis, MariBeth Baloga, Cyndi Bemel, Barbara Lai Bennett, Mariko Bird, Chuka Susan Chesney, Sharon Jeniye Cohen, Roger Dolin, Darien Donner, Karen Duckles, Martin Ehrlich, Mims Ellis, Maryellen Eltgroth, Patricia Fortlage, Gina M, Kevin Hass, Karen Hochman Brown, Marvin Jackson, Jeffry Jensen, Nora Koerber, Joanna Kos, Tommy Lei, Warner LeMénager, Rosina Maize, Janet Manalo, Chris Moore, Albert Natian, Victor Picou, Rebecca Harvey Pollack, Rhonda Raulston, George Repetti, Jean Richardson, S. A. Smith, Robert Michael Sullivan, Kathleen Swaydan, Barbara Thorn, Suzanne Urquiza, Tsvetelina Valkov, Ken Weintrub, Sean Yang, Carolyn Young
Founded in 1925, the Pasadena Society of Artists is one of the area's original professional artist groups. The Society is noted for its vigorous, active membership, wide diversity of artistic statement, and high professional standards. Membership is by juried submission.
PSA is a non-profit organization whose mission is to present the works of its many talented and creative artists to the community of Pasadena and surrounding areas. Combining an active tradition of community participation and partnering with local community arts organizations, as well as philanthropic, humanitarian and educational institutions, PSA endeavors to enhance public awareness of art and the enriching qualities it brings to our lives.
For more information about PSA please visit www.PasadenaSocietyofArtists.org